Are you tired of studying for hours and yet struggling to retain information? Do you want to supercharge your learning and make it more efficient? Look no further than Anki, the ultimate tool for accelerated learning and long-term memorization.
This is my short guide to using Anki for learning Swedish. Scroll down towards the bottom to read more about my pre-made Anki decks such as my Most Common Words decks and themed vocabulary booster decks.
What is Anki?
Anki is an application that you can use on your desktop or mobile. It employs spaced repetition to help you memorize what you've learned.
How does Anki work?
Anki uses flashcards, known as "cards". These cards consist of a question or a cue on one side and an answer or a response on the other.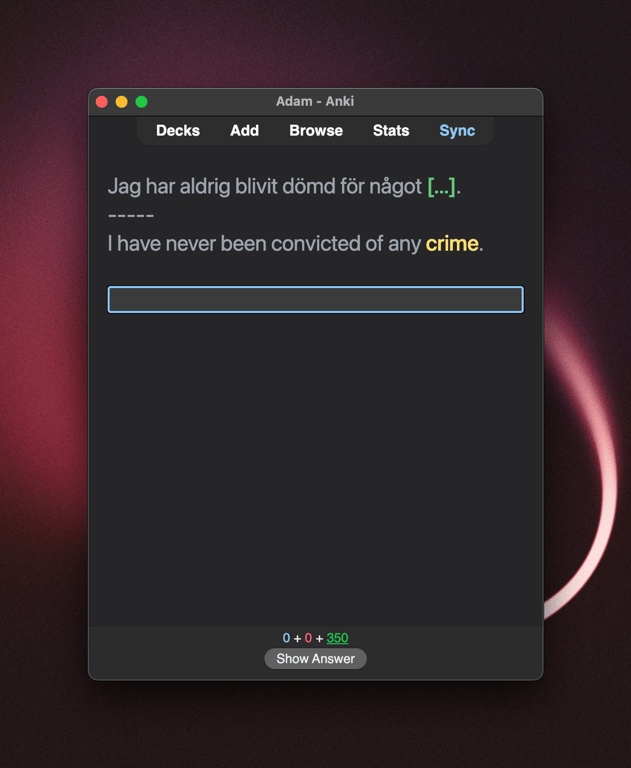 The real magic lies in Anki's intelligent scheduling system, which personalizes your review sessions based on your individual performance.
When you review a card, you rate your level of difficulty or recall. Based on your response, Anki adjusts the timing for the next review. If you struggle to remember a specific card, Anki will show it to you more frequently until it becomes ingrained in your memory. Conversely, if you answer correctly, the card will be scheduled for review at progressively longer intervals.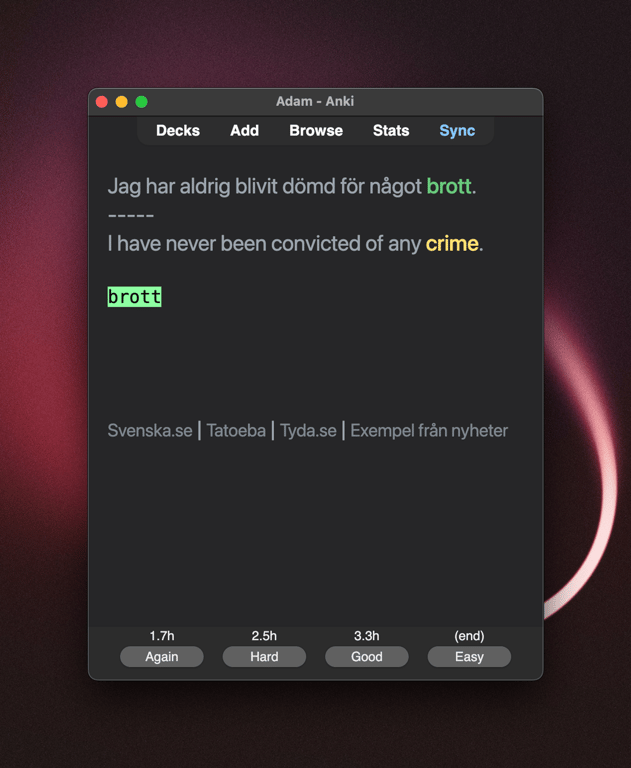 This algorithm ensures that you focus your attention on the areas where you need the most reinforcement, optimizing your learning process.
Why should you use Anki?
Anki's approach to learning offers several compelling benefits. Here are just a few reasons why you should consider incorporating Anki into your study routine:
Efficiency: Anki helps you make the most of your study time. By focusing on the material that needs the most reinforcement, you avoid wasting time on reviewing information you already know well.
Long-term retention: Anki's spaced repetition algorithm is designed to promote long-term memorization. By regularly reviewing and reinforcing your knowledge, you are more likely to remember what you've learned.
Flexibility: Anki is highly customizable, allowing you to create your own decks of flashcards or import pre-made decks created by others. This flexibility enables you to tailor your study materials to your specific needs and interests.
Get started with Anki
When you've installed Anki for the first time, you only see an empty Default deck. Keep on reading to learn how you can create your first flashcards or import pre-made cards.
Creating your own cards
One of the most powerful features of Anki is the ability to create your own flashcards, tailored to your specific learning needs. Here's how you can create your own cards:
Open Anki and click on "Add" or press the shortcut key "A" to create a new card.
Enter your question or cue on the front side of the card.
Enter the corresponding answer or response on the back side.
You can add additional elements like images, audio files, or formatting to enhance your cards if desired.
Once you've entered all the necessary information, click "Add" to save the card to your deck.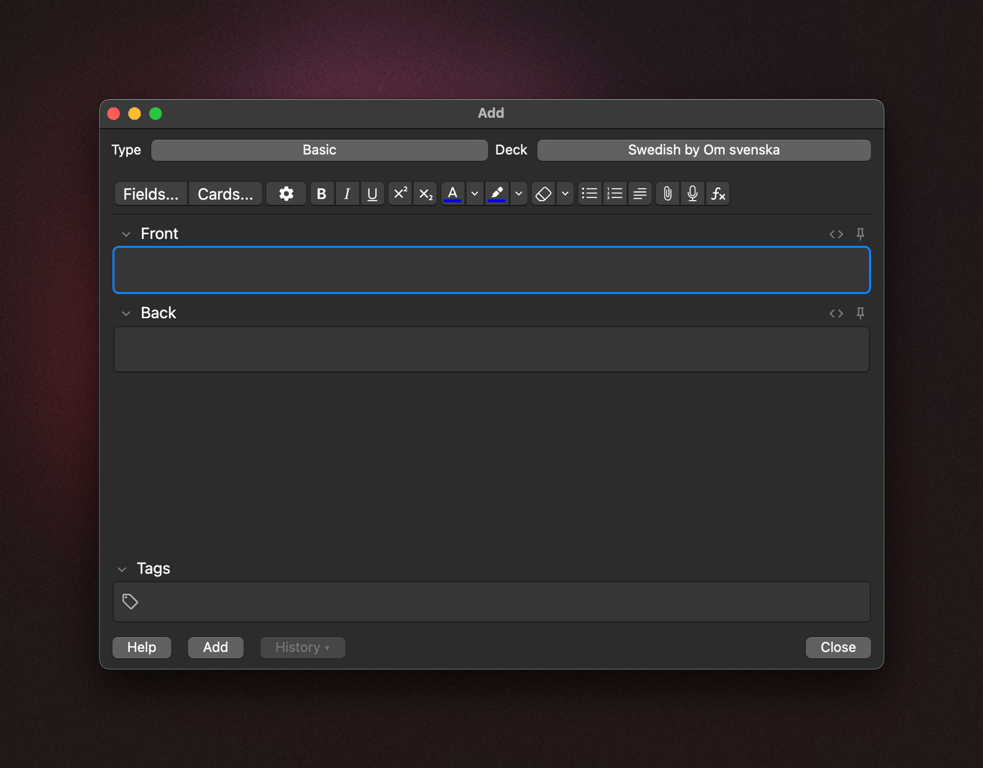 Studying your first cards
Studying your deck of cards is a straightforward process.
Here's a step-by-step guide to help you dive right in:
Import your deck: If you have a pre-made deck of cards, you can easily import it into Anki. Simply open Anki and go to the "File" menu, then select "Import". Choose the file containing your deck, and Anki will import it into your collection.
Begin studying: Once your deck is imported, you can click on it to open it. This will start a session new cards. If you've used Anki before, you'll also get all cards ready for review.
Your first cards: Once you see the question, try to recall the answer or response from memory. Take a moment to think before revealing the answer by flipping the card. Depending on the deck, you might be able to type in your answer.
Rate your recall: After revealing the answer, rate your recall by selecting one of the options provided.
Repeat the process: Move on to the next card in the deck and continue studying the rest of the cards.
Master Swedish with Om svenska's pre‑made Anki decks
Are you eager to get started with Anki but don't have the time or energy to create your own flashcards? Look no further than Om svenska's pre-made Anki decks.
Designed with care by a native speaker, these decks offer something that many shared decks found online lack.
Context and curation
Om svenska's pre-made Anki decks provide each word in context, giving you a deeper understanding of how it is used in real-life situations. This context is carefully curated by me (a native speaker), ensuring accuracy and relevance. By studying words in context, you will get a better grasp of the Swedish language and its nuances.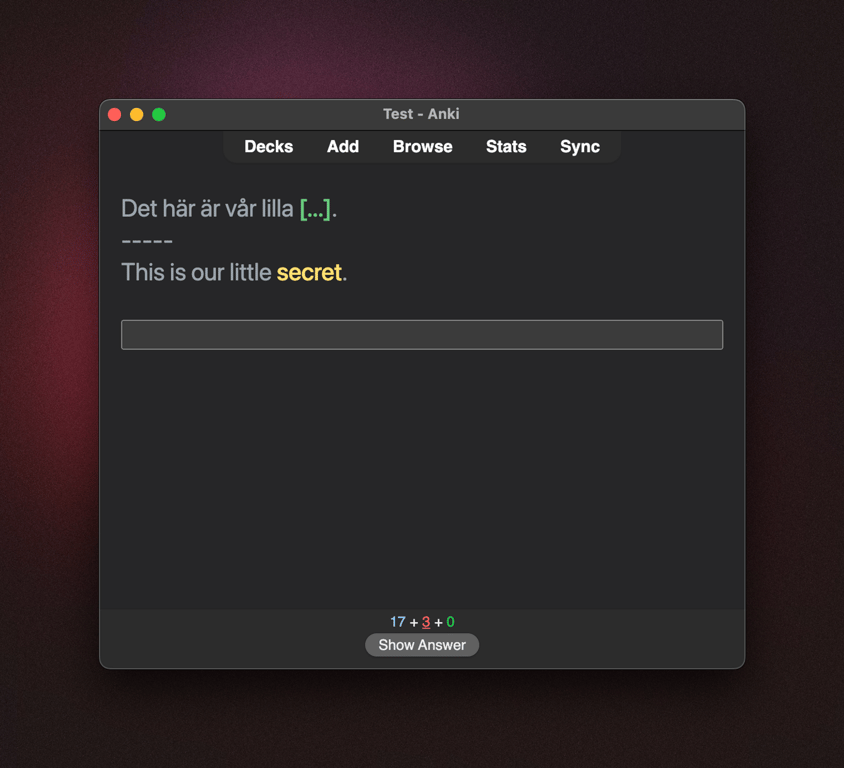 Instant feedback for those pesky synonyms
One of the standout features of Om svenska's pre-made decks is the instant feedback you receive while typing your answer. Say goodbye to the frustration of second-guessing yourself or inadvertently typing a synonym that's not the precise word the card is asking for. With Om svenska's decks, the typing field provides real-time feedback. (Available for desktop users.)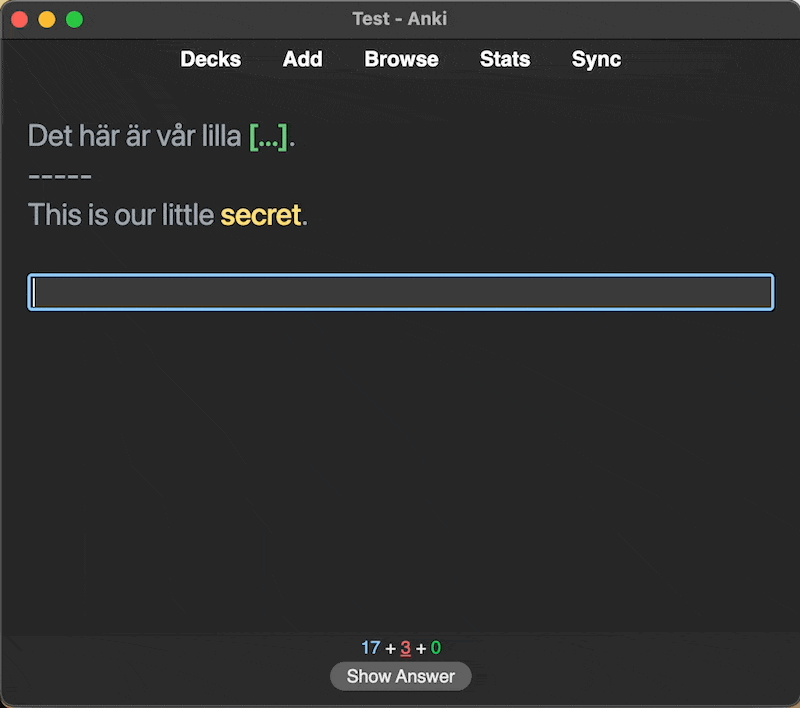 On mobile devices, a "Hint" button serves as an alternative. Tapping the Hint button unveils the first three characters, one by one, helping you confirm that your thinking of the right synonym.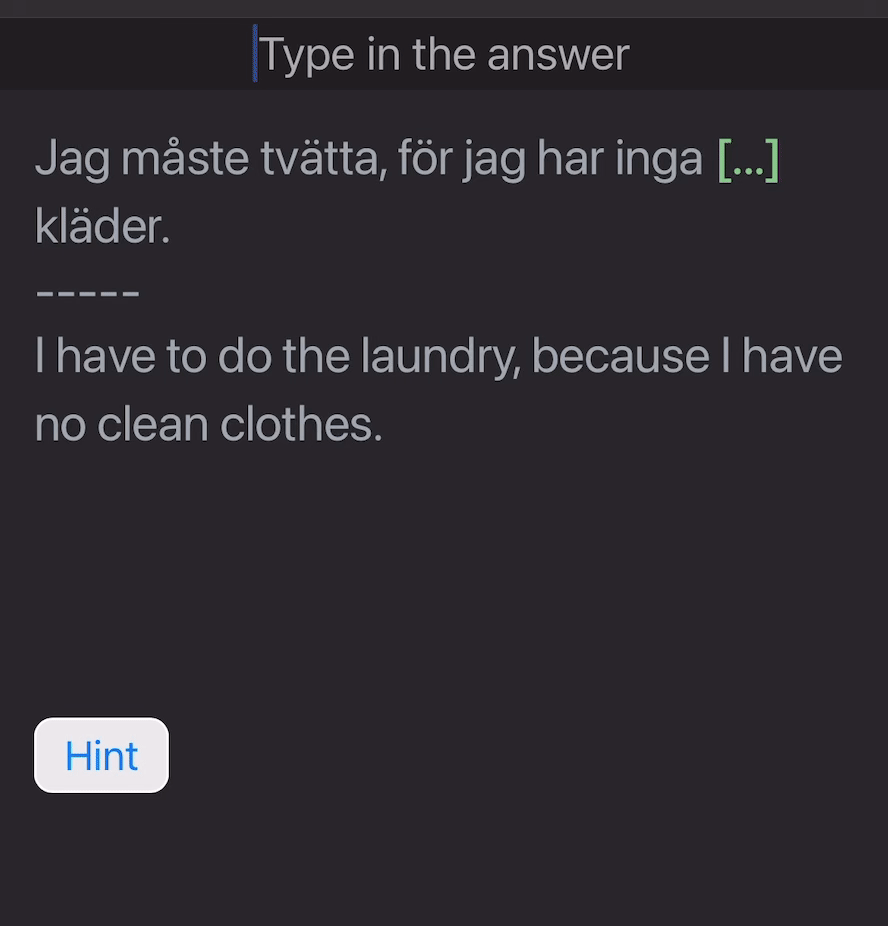 Expandable and customizable
As you progress, you have the flexibility to expand your collection. You can add cards for words you stumble upon while studying other materials or import another deck to top-up your card collection. If you add another deck from Om svenska, it will automatically expand upon your existing deck.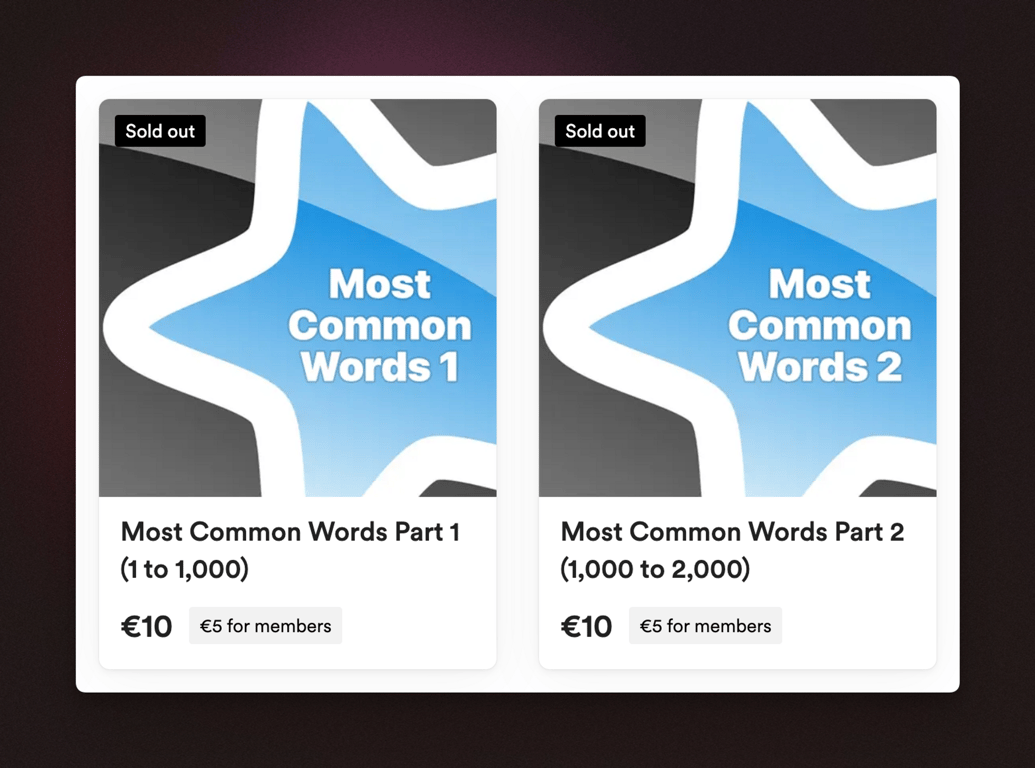 Try before you commit
Don't just study Swedish, master it with Om svenska!